How to Cut Down on Trips to the Vet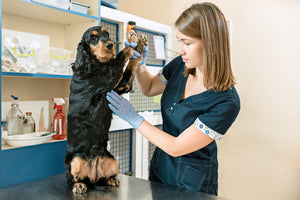 First things first, it is always wise to get your beloved pet to the vet at least once a year for an annual check-up. There may be more visits needed if you have a puppy, kitten or a senior pet. Chances are you are paying out-of-pocket for your visit, unless you have health insurance for your furry friend. This can become costly. We know you want them to stay in good health. Many of us will go to any length to ensure they are well taken care of. There are preventative measures you can take to keep vet visits at a minimum, no matter the age of your pet pal. 
Senior Dog Multivitamins 
The most frequent vet visits are for elderly dogs. Naturally, as their bodies get older they can develop some common problems down the road. Some of these problems include digestive issues, irritable bowels, inflammation, wear and tear on muscles and cartilage that may cause arthritis, hip dysplasia and deterotiation of joints. Senior dog vitamins contain ingredients such as glucosamine, chondroitin sulfate, pumpkin, hemp powder that can significantly reduce these problems caused by old age. This means less prescription medication from the vet to help your dog stay mobile and increase regular, healthy bowel movements. 
Pet Multivitamins
Throughout their lifespan, your beloved pet will not receive all of the necessary vitamins to keep them healthy through pet chow alone. Pet multivitamins amp up the nutrition by providing them with ingredients such hemp powder, turmeric, omega-3 fish oil, probiotics and pumpkin. These are natural yet powerful inflammation reducers. Inflammation in the joints, muscles and digestive system lead to more serious problems during the course of their life and in their later years. Some of these ingredients found in pet multivitamins also help to prevent skin issues keeping their skin and coats shiny, healthy and problem-free. 
Pet Probiotics
Probiotics are extremely helpful when it comes to reducing visits to the vet. This is true of both dogs and cats. If they are outdoor pets, they may be prone to infections and diseases from all sorts of things lurking around. If you pet is a natural hunter, they may attract these problems from other animals. When infections occur and a vet visit comes to be, an antibiotic is typically given to them. Antibiotics can cause side effects such as diarrhea, vomiting and a change in appetite. They also strip them of the good microflora in their system. Giving them pet probiotics will help restore their healthy gut bacteria and help to prevent the need for antibiotics. Pet probiotics help with Inflammatory Bowel Disease, diaherra, vomiting, digestion and boost their immune system as a preventative measure. 
Salmon Oil and Hemp Oil 
These two ingredients are exceptional in preventing common issues both canines and felines experience throughout their life. These issues include dry nose, dog acne, dog eczema, dog rash, dog dandruff, inflammation, heart health, cognitive function and immunity. Both salmon oil and hemp oil contain omega-3 and omega-6 fatty acids. These are essential in supporting a healthy immune system and preventing skin problems. They work to provide extra care for their skin, coat and overall internal health. Providing salmon oil and hemp oil in their diet can reduce their amount of problems and in turn, the amount of trips to the vet. 
An annual trip may be all that is needed for your beloved pet with these nutritious vitamins and oils in their diet. Be sure to consult with your vet, if necessary. Always provide them with vitamins designed for dogs and cats. Never provide them with any vitamin made solely for humans. You will keep their vet trips at a minimum while adding years to your furry friends life! Less vet trips, more healthy living! 
Featured Products: