Thanksgiving Recipes for Your Pets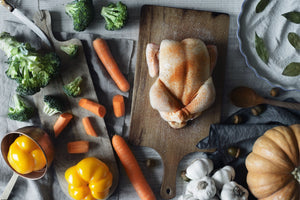 As you enjoy your delicious holiday meal, your pet looks at you desperately in the corner licking their chops, uncontrollably drooling and panting for a piece of your feast. We know you want them to feel apart of the festivities, why not make them something both scrumptiously tasty and good for their health as well? Here are Thanksgiving recipes for your pet to show them how grateful you are to be apart of their furry lives!
Probiotic Pumpkin Pies 
Pumpkin is excellent for your dogs digestion. These probiotic pumpkin pies will be put to good use, especially if you aren't the only one tempted to feed your pooch Thanksgiving table food this year! Use 16 ounces plain canned pumpkin (not pie filling), ½ of a banana, ¾ cup gluten free flour, ½ cup gluten free oatmeal, ½ cup plain low-fat yogurt, ¼ to ½ cup of water and 1-2 scoops of pre + probiotic powder for dogs. You will need a cupcake / muffin tin with liners. 
Preheat your oven to 375 degrees fahrenheit. Mix flour and oatmeal in a bowl. Slowly add water to the mixture. Be sure to add it slowly because you want the consistency of the dough to be both firm and soft enough to be pliable. Line the cupcake tin with liners. Take pieces of the dough and press into the liners. The dough should be about ½ inch thick per liner. Bake for about 8 minutes until lightly brown. Remove the crusts from the tin and allow to cool on a rack. In a separate bowl, combine the banana, yogurt, canned pumpkin and pre + probiotic powder for dogs. Mix together well. Fill each tiny crust with the probiotic pumpkin mixture. You can freeze or serve as is! We don't recommend giving them more than 2 probiotic pumpkin pies in a day. They contain a healthy chunk of fiber to help ease digestion! 
Omega-3 Turkey Giblets
We don't recommend feeding your cat or dog food made for humans all of the time. This can instill some bad habits. However, for the holiday, you can indulge them for the day. When preparing a turkey, there is that part which makes even the best chefs a little squeamish. The giblets are what we pull out from the turkey cavity before preparing the turkey to bake. The giblets contain the liver, kidneys, heart, gizzard and neck. Instead of just tossing them, we can turn them into a healthy treat for our pet! 
Remove the turkey giblets from the turkey cavity. Be sure to not include the neck as it contains bones. If the giblets are in packaging, remove them from the packaging. Rinse the giblets thoroughly. For cats and smaller dogs, chop them into small pieces. Place the giblets in a small pot and cover with water. Bring the pot to a boil. Reduce heat to medium, cook for 5 to 10 minutes. You want to be sure they are cooked through. Transfer them to a separate bowl to cool down. Mix the giblets with the recommended dosage (based on weight) of salmon + hemp oil. This natural salmon + hemp oil for pets combination contains omega-3 and omega-6 fatty acids. These are exceptional ingredients to reduce inflammation, boost a healthy heart and provide a shiny coat. 
Immune-boosting Turkey Meatballs 
Use that leftover turkey to make your pet a delicious treat! About 1 lb of leftover turkey meat will work for this recipe. Be sure to remove all of the skin and bones. Turkey skin contains too much sodium, which isn't healthy for your cat or dog to consume. Use ½ cup rolled oats, 2 eggs, 2 tbsps plain low-fat yogurt, ¼ cup fresh parsley, 1 cup mixed veggies (carrots, peas or green beans) and 1 scoop of pre + probiotic for cats or 1 scoop of pre + probiotic powder for dogs. The powder depends on whether or not you are giving to a cat or a dog. Be sure to not give a probiotic powder made for cats to dogs and vice versa.  
Preheat your oven to 400 degrees fahrenheit. Add the leftover turkey to a food processor or blender to chop up the meat. Add rolled oats and blend together the ingredients. Next, add the eggs, yogurt and probiotic powder. Be sure they mix well enough to hold together. Transfer to a separate bowl. Mix in your veggies and parsley by hand. Roll them into 1 inch balls. Place onto a parchment-lined baking sheet. Bake for about 20 minutes. You want to be sure they are golden around the edges. Be sure they cool down before serving to your furry friends. They can last up to 5 days in the fridge. For cats and smaller dogs, you will want to cut them into smaller pieces once they are finished baking! These make the perfect immune-boosting turkey balls for your beloved pet! 
We know you may be tempted to discreetly give your pet a couple of hand-outs underneath the Thanksgiving dinner table. Don't do it! Instead utilize those leftovers or make them something special for the holiday. They will thank you for it! 



Featured Products: