2 Important Ingredients Your Dog or Cat Isn't Getting in Their Diet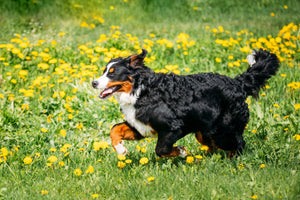 Longer lives, silky coats, healthy skin, strong hearts and less sickness. We want all of these things for our furry friends but it's really difficult to find one supplement, one treat, or even one type of food that can do it. While all of these serve their purpose in increasing our pet's happiness and health, there are 2 important ingredients that most cats and dogs aren't getting in their diet but could greatly benefit from. Salmon oil and hemp seed oil. 
Salmon Oil
Salmon oil comes from - you guessed it - salmon! As humans, we eat salmon and other kinds of fish for the same purposes as dogs. Salmon is full of omega-3 and omega-6 fatty acids. 
Hemp Seed Oil 
Hemp seed oil comes from the seeds of hemp plants. The seeds of hemp plants are actually completely different from hemp oil or hemp extract. The hemp seeds are pressed to extract the oil. It contains absolutely no CBD or THC. Some humans cook their meals with hemp seed oil or add the seeds to their diet such as on salads or blended into smoothies. However, hemp seed oil is rich in omega-3 and omega-6 fatty acids. Similarly to salmon oil, but hemp seed oil for dogs is plant-based. 
What do they treat? 
Both salmon oil and hemp seed oil aren't necessarily meant to treat any specific condition. They are actually safe enough to be taken on a regular basis and can be used as a holistic health measure for your dog or cat's healthy and active life. Salmon oil supports a healthy immune system, heart health, anti-inflammatory properties, healthy skin and coat and cognitive function. Hemp seed oil also boosts immunity while providing extra care for your dogs skin and coats. It is known to help treat some disorders such as dry nose, dog acne, dog eczema, dog rash and dog dandruff.
How can I add them to my dogs diet? 
The most effective and efficient way to add salmon oil and hemp seed oil to your dogs diet is by providing a salmon oil and hemp seed oil liquid supplement. Most salmon oil and hemp seed oil dog supplements are designed to be tasty, so they can be easily added to their food on a daily basis. It is best to not use hemp seed oil and salmon oil designed for humans as there may be other added ingredients that could harm your dog or cat. Stick to the oils that are made specifically for pets. 
Less trips to the vet and a longer life span for your pet are the main reasons we want to add these 2 important ingredients to our their diet. If you are looking to treat specific ailments, these safe and effective oils will contribute in their overall care combined with other ingredients. Your pet deserves the very best, give them something you know will impact their lives in a healthy way! 
Featured Products: