5 Most Powerful Ingredients for Dog Joint Health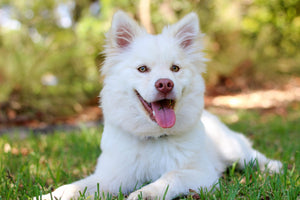 The sight of a dog with a sad face sitting in the corner of room is not all that pleasing. What a dog owner really likes to see is their dog running around, catching tennis balls, chasing family members, and maybe even going crazy when the owner returns home from the office. To do all of that, your dog needs to be healthy internally. Just like humans, dogs can suffer from severe joint related pains and conditions. A hip and joint chew can be of great importance to keep your dog healthy, active and energetic. But not every product claiming to boost your dog's joint health is equal. Here are the 5 ingredients that are proven to work through science not by marketing:
Glucosamine
Chondroitin
Turmeric
MSM
Yucca
Look for a dog joint health product with these ingredients for maximum efficacy:
1.    Glucosamine
Glucosamine is one of the most renowned compounds used around the world to treat arthritis in many animals that include horses and dogs. This compound works on the cartilage part of the bone, which starts disintegrating as a result of arthritis. By preventing cartilage from breaking down, it helps reduce joint inflammation. It can also help instantly reduce joint related pains in dogs.
2.    Chondroitin
It is a GAGS (Glycosaminnoglycan) that also helps maintain cartilage health in dogs and other animals. The shock absorption of a dog's cartilage bone depends on its flexibility, which is a result of proper water retention. Chondroitin helps with just that i.e. retaining water in cartilage to keep it flexible and shock-absorbing. Glucosamine and Chondroitin work together to help dogs with joint traumas recover fast.
3.    Turmeric
It is curcumin in turmeric that makes it much more than a spice. The antioxidant properties of this bioactive component of turmeric make it anti-inflammatory in nature. Any bone condition that causes the joint stiffness, pain and inflammation can be treated with turmeric. Any infections during arthritis can be worst for your dog but turmeric's microbial properties can help your dog stay away from those infections as well.
4.    MSM
MSM stands for methylsulfonylmethane, which is more like sulfur in its oxidized form. While this is known for its tissue and immune system related benefits as well, what makes it special is its effects on joint health. MSM dissolves calcium phosphate in your dog's body. It is calcium phosphate that makes your innocent pet more prone to various forms of arthritis. Proper intake of MSM can help your dog retain good joint health, achieve joint flexibility and bring down inflammation and stiffness.
5.    Yucca
This plant that comes from cactus family & has all the bone-healthy compounds in it. What makes Yucca so great for dogs is their phosphorous, calcium, vitamin B, magnesium and iron content. All of these ingredients are integral to bone health and various functions of the body. Ample use of yucca in a dog's diet can help them with optimum bone health.
One of the things to keep in mind for dog owners is that these ingredients should be a part of your dog's diet in all young adult to senior dogs. You don't have to wait for your friend to have arthritis because prevention is the best medicine. In the end, it is best that you select a bone-healthy dog chew for your dog that contains all of the ingredients mentioned above rather than spending money on them separately.
Featured Products: