Halloween Couple Costumes for You and Your Pet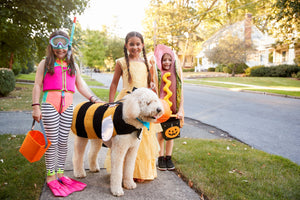 One of the best ways to jazz up your Halloween costume this holiday are with your furry friends! They want to join in on the fun just as much as you do! There are a variety of Halloween couple costumes for you and your pet pal for all of the upcoming spooktacular events. 
Witch and Spider 
Dress up like a witch with the pointy hat and the black dress. Get a dog spider costume with extra arms and legs on it. Use faux spider webs wrapped around their leash to appear like they are attached to you. 
Little Red Riding Hood and the Big Bad Wolf 
Throw on a red hooded cape and grab a wicker basket to hold. Place some extra furry wolf ears on your pup. Don't forget to bring extra dog treats with you! 
Cruella Deville and 101 Dalmatians
Even if your dog isn't a dalmation, this costume idea never gets old. In the popular Disney movie, 101 Dalmatians, Cruella is an evil woman who wants to use the pets fur to make coats. Dress up like Cruella with her spotted coat and black-n-white hair. Wrap your pup in a matching spotted patterned fabric. 
Circus and Lion 
Grab your black top hat and red with gold tassel jacket. Give your dog a fluffy lions mane around their head. For an added touch, place gold tassel around the leash to mimic a ring of fire like you are the lion tamer. 
Vendor and Hot Dog 
An apron and a triangular cook's hat will complete your costume. Your pooch will be the goods you are selling. Daschunds make particularly good hot dogs as they are known as "weiner dogs." But this costume can work for any dog, all shapes, sizes and breeds! 
Elliot and E.T. 
From the classic film, E.T. the Extra Terrestrial, dress up like the young boy who meets this gentle alien trying to find his way home. All you will need is a red zip up hoodie. Wrap your pooch in small white blanket, be sure to cover the tops of their head so only there face is poking out. If you really want to take this costume to the next level and your dog is small enough, you can place them in a crate attached to a bicycle and ride around town. 
There are oodles of couple costumes for you and your pet to pair up this Halloween. Get your furry friend involved in the festive fun this season!