Understanding Your Dogs Sleep Habits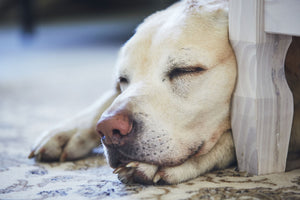 8 hours sleep a night is recommended for humans. Many of us don't get this amount of sleep per night. We become sluggish, irritable and anxious without enough sleep. Your dog requires much more sleep. 12 - 14 hours of sleep is recommended for dogs. Dogs feel the same when they don't receive the sleep need. Understanding your dogs sleep habits will help them live the happiest and healthiest lives possible. 
Interval Sleeping 
Adult dogs need 12 - 18 hours of sleep and puppies need 18 -19 hours of sleep. Dogs sleep in intervals. Meaning, they achieve this amount of sleep by napping. Waking up periodically for 1 - 2 hours between their naps. This is valuable knowledge especially if you are concerned that your dog is sleeping more than you. It is natural that they sleep more often than you do! 
Sleeping Together 
Liters of dogs sleep in piles with one another. Have you ever seen a group of puppies sleeping in a puppy pile? This "cuddle puddle" is natural for dogs. They love to be snuggled up next to another warm dog or human. It is perfectly natural to sleep next to your dog at night. However, do not force your dogs under the covers with you. They could potentially overheat or get tangled up in the blankets. If they choose to go under the covers then allow them to do so. 
Sleep Anxiety 
Sleep anxiety isn't uncommon for dogs. This can happen as a result of separation anxiety. Some dogs view your sleep patterns as a form of separation anxiety and may cause them to have night time anxiety. They may pace around your room or paw at you while you asleep. Allow them to sleep in bed next to you to help ease their anxiety. If this doesn't help, you can add a natural dog calming soft chew to their diet. This will help ease their jitters throughout the day and night. 
Lights for Sleeping
Dogs have much better low light vision than humans. It isn't necessary to keep the lights on in the house for your dog while you are asleep. Nor do all lights need to be off when they are sleeping. However, it doesn't hurt to have 1 - 2 lights on and the rest of the house in darkness. 
Tight Spaces 
Some dogs like to sleep in tight spaces like under the bed, dog beds with edges and awnings or in between you and your partner at night. This goes back to their ancestral roots. Wild dogs would sleep in dens. It is not uncommon for your dog to enjoy these type of enclosed spaces when sleeping. 
Curling up, Belly up and Twitching 
Without a den, dogs in the wild dig a nest and curl up into a ball to protect their organs from potential predators. They also curl up in a ball to conserve body heat. You may notice your dog sleeping like this when at home. When your dog sleeps belly side up, they are extremely relaxed and comfortable. They may also be warm or hot. They is no need to conserve body heat. Twitching during sleep is a sign your dog may be dreaming! Like humans, dogs experience R.E.M (rapid eye movement) during a deep sleep. It is perfectly natural. If you have to wake up your dog or it frightens you, gently call out their name. You may startle them if you touch them. 
Sleeping Too Much? 
If your dog seems irritable, sluggish, unmotivated, unhappy or bored, they may need more exercise or attention. Sleeping too much could also be a sign of health issues. Give your furry friend a natural dog multivitamin and see how their mood and sleep patterns improve. Combine the supplement with more activity for even better results. Consult with a vet if the problem doesn't resolve itself after a few weeks. 
Dogs and humans get along because we share similarities. Dogs will adapt their sleep patterns, eating habits and activities to their surrounding environment. However, some instincts are just natural. It is up to us to understand our dogs natural habits and to help accommodate their needs to live wonderful and happy lives! 
Featured Products: